Short-term Japanese courses
For those who want to learn Japanese intensively in a short period of time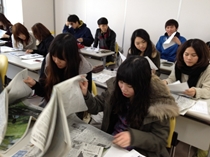 These courses are ideal for those who come to Japan during a long holiday and who already have appropriate visa status.
Class Levels
CBC offers a wide range of class levels, from how to read hiragana to advanced Japanese needed at work. The class level is determined by the result of a level-check test. The level-check test takes place before the course starts.
School Events
Depending on time of course, CBC students can participate in the events below.
May Field trip
June Bowling Tournament
August "International Festival and Sanno Festival"
November Field Trip
January New Year's Party
February Sports Event
3-month Courses
| Name of the Course | Period |
| --- | --- |
| Spring Course | May 7th to July 13rd 2020 |
| Summer Course | July 16th to September 23rd 2020 |
| Autumn Course | October 14th to December 24th 2020 |
| Winter Course | January 6th to March 18th 2021 |
| Tuition Fee | JPY200,000 |
| Application Deadline | 1 week before the course starts |
※Event participation fees and textbook fees are not included in the tuition fee.
※Please pay the tuition fee within one week of application.
※It is possible to continue to the next term (other than "temporary visitor" status of residence).
※It is also possible to continue to a long-term course with a "College Student Visa."
For more information, please contact us by e-mail, etc.