Department of Business Japanese (2-year)
To acquire the Japanese level needed to find a job at a Japanese company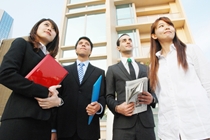 The Department of Business Japanese is for people who want to work in a Japanese company in their home country or in Japan. Students learn Japanese and manners required by business situations, and obtain qualifications advantageous to securing a job at a Japanese company.
Employment Support System
Teachers and staff work with students to help in their job search. Support includes analysis of the latest company information, how to write an application, and practice for a job interview, as well as advice and tips on Japanese manners - such as courtesy and greetings, wording, and appropriate apparel. Immediately following admission, these types of training are reinforced.
Diploma (Senmonshi) Awarded at the Time of Graduation
A Diploma (Senmonshi) certifies having acquired high technology know-how and skills from a "Professional Training College" in Japan.
With this document, you can work in Japan soon after graduating. Even if you return home once, to work in Japan is still possible with the proper status of residence, such as in "international business knowledge and Humanities." In addition, if a job cannot be found after graduating, up to a year stay in Japan for the purpose of job hunting is allowed.
Internship Program
Internship is to experience "practical training" at the workplace of Japanese companies while in school.
By doing internship that applies skills learned in school, students can experience firsthand the actual structure of a given industry and a real business field.
In addition, being able to make a positive impression with companies for later job-hunting purposes is an incentive to join the internship program.
Acquiring the Japanese-language ability for getting a job at a Japanese company
Students learn the three skills of "pronunciation," "interactive ability" and "document creation," as well as acquire a "communication ability" required in business situations in Japan.
Besides learning difficult Japanese expressions, there is a wide range of Japanese to acquire, from "communicative Japanese" to "beautiful Japanese."
Pronunciation Training
Correction of pronunciation is the first step in developing Japanese-language communication. The wrong pronunciation may lead to misunderstandings. Through repetition during CBC training, the correct pronunciation is acquired.
Document Writing Skills
In practice, you need to write business letters and reports in Japanese on a daily basis. Now, Japanese companies require of foreign employees the ability to create these documents. Experienced instructors teach a method for constructing a Japanese document.
Qualification Examinations - First Step: Japanese Language Proficiency Test N1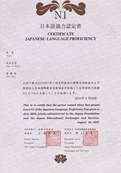 If you wish to find a job in Japan, Japanese-Language Proficiency Test (level) N1 is required. CBC classes for JLPT have a good reputation for a high pass rate, and students aim to pass JLPT N1 in the first year. After passing, they aim to acquire the various qualifications that are useful in business situations.
[Examples of Qualifications]
Japanese-Language Proficiency Test N1, BJT business, The Communication Proficiency Exam, Business Proficiency, Business Document Proficiency Test., TOEIC, Excel / Word, The Official Business Skills Test in Bookkeeping, Secretarial Skills Test
Curriculum
Category
Subject
Year 1
Credits
Year 2
Credits
Japanese (Required)
Pronunciation Training
2
2
Grammar
4
Grammar Exercises
4
Vocabulary Expression
4
Vocabulary Expression Exercises
2
Listening Comprehension
2
Japanese Reading
2
Perusal in Japanese
4
Written Expression
4
JLPT Preparation
4
Business (Required)
Basic Business
2
2
Business Conversation
2
2
Business Manner
2
Business Document
2
Economic Circumstances
2
Windows Exercise
2
Qualifying Examination preparation
2
Communication (Required)
Communication
4
Speech Training
2
Presentation
2
2
Elective Subjects (8 credits)
Applied Conversation
4
Circumstances of Japan
4
Japanese Culture
4
Expressive Activities
4
Business research
4
English Communication
4
4
Others
Employment Preparation
2
2
Extracurricular Activities and Special Classes
2
2
※Internship
2
2
Time Table Example
| | Monday | Tuesday | Wednesday | Thursday | Friday |
| --- | --- | --- | --- | --- | --- |
| 1 | Pronunciation Training | Vocabulary Expression | Basic Business | Listening Comprehension | Grammar |
| 2 | Grammar | Circumstances of Japan (elective) | Basic Business | Presentation | Written Expression |
| 3 | Vocabulary Expression | Circumstances of Japan (elective) | Business Conversation | Presentation | Written Expression |
| 4 | Japanese Reading | Communication | Communication | English Communication (elective) | Employment Preparation |
| 5 | | Communication | | English Communication (elective) | |