Access
Department of Japanese, Advanced Studies in Japanese and Business Japanese
22-9 Ekimaehoncho, Kawasaki-ku, Kawasaki city, Kanagawa prefecture ,210-0007
College of Business and Communication (CBC) International Hall, 6F
TEL: +81-44-244-3200, FAX: +81-44-244-2277
Access to CBC and Area Map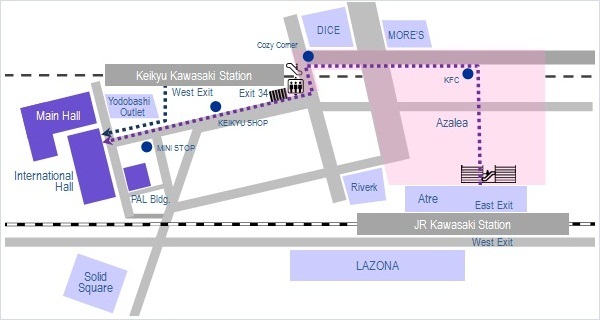 Access to CBC and Area Map
1. Head right from the ticket gates of Kawasaki Station (East Exit)
2. Go down the escalator to "Azalea" underground shopping mall
3. Enter the underground shopping center, go straight, then turn left at the corner of KFC (Kentucky Fried Chicken).
4. Go straight and you will see the entrance to the DICE building. Keep going straight ahead and turn left at the Cozy Corner (cake shop) on the right side. Go up the stairs to the ground level from Exit 34.
5. From Exit 34, go straight down the sidewalk. There is a Ministop on the left.
6. Keep going straight ahead. The school office is on the 6th floor of the building at the far end. (1st floor of this building is Jonan prep school.)
■From the East Exit of Kawasaki Station JR:4-minute walk
Access from Keikyu Kawasaki Station (West Exit)
1. Go straight out of the ticket gates of Keikyu Kawasaki Station, West Exit. (There is Yodobashi Outlet on the right.)
2. Turn right at the corner of Yodobashi Outlet and go straight.
3. The school office is on the 6th floor of the building at the far end. (1st floor of this building is Jonan prep school.)
■From the West Exit of Keikyu Kawasaki Station:1-minute walk
Kawasaki Station Route Map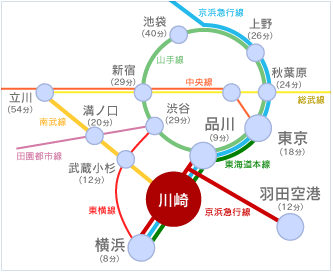 JR Kawasaki Station and Keikyu Kawasaki Station can be used to access Central Kawasaki.
Between two stations is a 3-minute walk.
■JR:Tokaido Line, Keihin Tohoku Line and Nambu Line
■ Keihin Electric Railway:Keikyu Main Line and Daishi Line
■Haneda Airport International Terminal Station:12 minutes from Keikyu Kawasaki by train.
Convenient Access to Tokyo, Haneda Airport and Yokohama from Kawasaki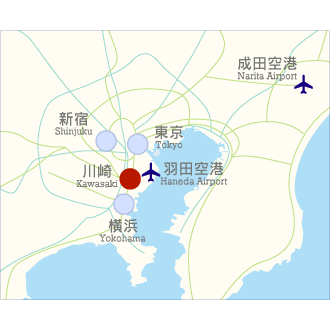 College of Business and Communication (CBC) is located in Kawasaki, Kanagawa prefecture.
Many people everyday are visiting Azalea underground shopping center and Lazona Plaza, which opened on the opposite side (west) of Kawasaki Station.
Kawasaki is known as a city of music and as a movie town, and has extensive facilities like a concert hall, live house, and a cinema complex. Kawasaki frequently appears in the media as a popular destination, such as in films and on television. Last year, the Fujiko•F•Fujio Museum opened, and getting more and more popular with foreign tourists.
Access by car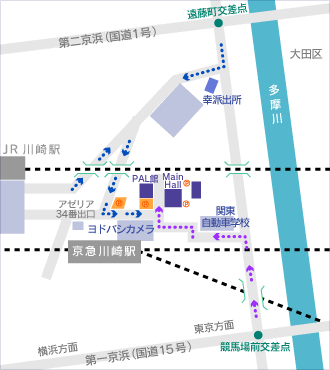 ■From Japan National Route 1:
On Japan National Route 1, turn at the intersection of "Endocho" and go in the direction of Kawasaki Station on Fuchukaido (Japan National Route 409). Turn right at the intersection of "Saiwai Police Station," pass under the guard of JR line, in the middle of a short uphill, then turn a sharp left at the corner. The school office is on the 6th floor of the building at the far end. (1st floor of this building is Jonan prep school.)
■From Japan National Route 15:
On Japan National Route 15, turn in the direction of "Musashi Kosugi" and "Noborito." Cross the railway and just after passing the first guard of Keihin Kyuko Line, turn left immediately (no traffic light) and then turn right at the end of the road. Next, turn left at the first intersection, following the road until you see the school building on the left. The office is on the 6th floor of the building. (1st floor this building is a Jonan prep school.)
※There is a pay parking lot in front of the school building.